It's always a good time to get your family organized. We, as humans, thrive with habits, systems, and predictable processes.
We do better when we know what to expect, and our kids thrive with specific back-to-school rituals to keep them organized.
So when I heard about 1Thrive and the 1Thrive Systems, I knew it was something I had to check out.
I knew that our family needed something like this. I knew our family needed a Command Center.
Get Organized with 1Thrive
1THRIVE Command Centers bring organization, clarity, and structure to your home without sacrificing style and beauty.
Unify your efforts, control the chaos and command your life. One idea inspired by real people. One wall to help you THRIVE.
It's true: 1Thrive Wall Organizers made for every type of organizer and lifestyle to help you THRIVE with confidence and style!
I fell in love with our 1Thrive System
When I finally got it up and running, I basically embarrassed myself sharing how I fell head over heels for my new Command Center.
Honestly, when I say that I love this thing, I'm not exaggerating.
I. Love. It.
I would marry it if I could.
Here's a first-hand look at my 1Thrive love
Check out my Instagram highlights–WHAT WE LOVE–or the video below, and you'll see how much I love it and why I think everyone needs one.
What does our Command Center have?
Essentially, I love that our Command Center (The Brooke) is:
super, insanely easy to install
totally customizable
affordable
cool and trendy
going to keep our family organized
DIMENSIONS: 30.50" W X 4.00" D X 36.43" H (in inches)
WHAT'S INCLUDED:
Horizontal Magnetic Base with 1WRITE* Header
Large White Magnetic Monthly 1WRITE* Board
Medium Black Magnetic Weekly 1WRITE* Board
Medium Corkboard
Hooks Strip
Two (2) Matte Black Metal Cups
Two (2) Sky Duo 1WRITE 1-For-All* Liquid Chalk Markers
Installation Hardware (4 wall screws & 4 anchors)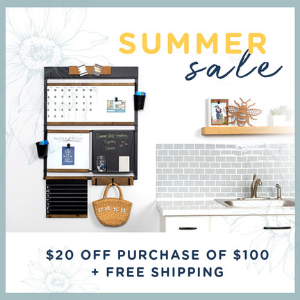 And know that there is usually some sort of sale to help with the cost of 1Thrive systems, so before you take the plunge, reach out to me–message me, email me, and I will let you know!
fyi: Some of the links in the post above are "affiliate links." This means if you click on the link and purchase the item, I will receive an affiliate commission. Forever and always I recommend only products or services I use personally and believe will add value to my readers. I am disclosing this in accordance with the Federal Trade Commission's 16 CFR, Part 255: "Guides Concerning the Use of Endorsements and Testimonials in Advertising." For more information, please see teachmama media, llc. disclosure policy.